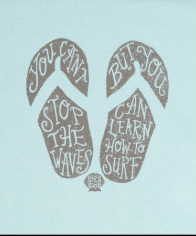 Blog post by Chelsea Kline, STL Addiction intern.
Today we went over a few coping strategies we can use during recovery to help us stay on the sober path. These are good to use when we are feeling tempted to use, bored, or anxious and can help us learn how to replace unhealthy behaviors with healthy ones.
Don't sit around and give yourself time to use. Think of something you can be doing that is healthy and go do it! Don't wait for tomorrow, do it today. A good plan today is better than a perfect one tomorrow.
Don't let excessive negative thoughts ruminate in your mind. Seek out the truth of your assumption instead of just playing out your version of what happened in your head.
Whatever kind of treatment you are using to help you recover, whether it is AA, self-help, medications or group therapy, make it a point to keep showing up. Some days it is hard to find the motivation to go to treatment. Apply "opposite action," and make treatment a priority even when you don't "feel" like going. Woody Allen said, "90% of life is just showing up. "
Put something between you and danger (substance use, tempting situations, toxic people, etc.). Creating time between a craving and using can help to re-evaluate the consequences of substance use.
Say what you really think
Honest communication is key in any and all relationships and you will feel closer to others when you are open and honest with them. However, there is such a thing as too much or brutal honesty that can be inappropriate, so we want to use this with people we can trust and in a constructive manner.
Stop neglecting your own needs. A main point of recovery is taking care of yourself and the only way you can do that is knowing what your body/mind/spirit needs and making sure those needs are met.
Move toward your opposite
We are looking for balance in our lives so look at one of your attributes or behaviors that may be on an extreme end and try to go the opposite way to find equilibrium. For example, if you are too dependent, try being more independent.
A productive schedule can help you stay connected to reality and gives you little time to use or even think about using. We don't want to over schedule and overwhelm ourselves, but having a productive day can keep us on track and healthy.
Put a shield up against the negatives in your life. Stay away from destructive people, bad environments, and substances. If you protect yourself from many of the negatives, you leave room for more positives.
Using gentle self talk can help you calm down and take care of yourself. Try talking to yourself as if you are talking to a small child or a friend. Sometimes we are too hard on ourselves and need to engage in self-soothing or positive self talk.
Think of the consequences
Remember to play the tape all the way through. Don't stop your thought process after remembering the high and the feel good of substance use. Make yourself think about the consequences that happen after use and use those consequences to motivate you not to use. Really see the impact of the decision to use for tomorrow, next week, and next year.
Just keep moving forward. It is hard in the beginning and you may feel lost, but if you keep trusting the process and going through the motions, the thoughts and feelings will follow and it WILL get easier. The only way out is through.
Think of how you can use these strategies throughout your day and make them available to help you through recovery. Certain strategies work better for certain people so try them out and see which ones really suit you and help to keep you sober.
*List adopted from the handout from
Seeking Safety
by Lisa M. Najavits