Our Treatment Approach


Why Choose St. Louis Addiction Counseling?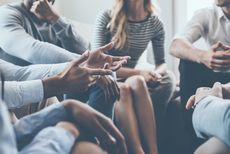 We are a small program that will only accept a certain amount of clients at one time. A smaller program helps the client connect to their treatment group and for our staff to have a personal understanding of the unique challenges they are facing in recovery. Clients will be able to have contact with their therapist throughout the week via text and phone if they need additional support.

Our therapists are all master's levels clinicians with additional certifications in substance abuse treatment. Our therapist's are trained to not only treat addiction but identify and treat underlying psychological disorders to provide integrated treatment. We frequently refer out to psychiatrists who can prescribe anti-cravings medications (Suboxone, Naltrexone, etc) and psychotropic medications. None of our clients are required to be on medication.

We use evidence based practices. David Sackett best defines evidence based treatment as, "the integration of the best research evidence with clinical expertise and patient values." We use the best current evidence in relationship to a client's preferences, environment, culture and value system. We know that not everyone gets sober the same way and use a client centered approach to help build a unique program, specifically tailored to a client's needs.

---
Cognitive Behavioral Therapy

CBT is an evidence based practice that helps clients help understand how their thoughts and feelings influence their behaviors. Addicted clients often experience thoughts or feelings that reinforce unhealthy belief systems. Unchallenged, these cognitive distortions can lead to substance abuse, poor mental health, and problematic behaviors which affect every part of a person's life.

CBT teaches clients how to identify and challenge cognitive distortions, in order to find a healthier, more balance way of thinking. Clients who have fully engaged in Cognitive Behavioral Therapy report being able to practice emotional regulation, control impulsive behavior, and abstain from drugs and alcohol.

Dialectical Behavioral Therapy- Informed Treatment

DBT combines cognitive and behavioral therapy, incorporating methodologies from various practices including Eastern mindfulness techniques. Although influenced by eastern zen practices, DBT is not a religious practice, and clients from all belief systems and philosophies find that DBT easily translates into their world view. DBT has been empirically demonstrated through 9 RCTs to be effective in treating;substance abuse, and a spectrum of mood disorders.

DBT focuses on treatment as a process to achieve clearly defined goals in the areas of ; core mindfulness, interpersonal effectiveness, emotional regulation, and distress tolerance. DBT introduces clients to a wide range of applicable skill sets to accomplish their therapeutic goals. ​
Individual Therapy

Through the development of a relationship between therapist and client, individual therapy provides the opportunity for an in-depth understanding of a client's problems. The style and focus of therapy is client centered, and related to the prioritized goals of treatment. The client will have the opportunity to not only discuss issues related to their addiction but also work on creating coping strategies for co-occurring disorders, improving relationships, managing stress, or anything else they find relevant to their well-being.


Family Therapy/Couples Therapy

The disease of addiction affects the entire family. We recognize that it can often be very stressful and confusing to have a family member with addiction and co-occurring disorders. In working with families, we provide family therapy and education about addiction and other diagnoses. Counselors focus on strategies to help family members engage in their loved ones treatment process, while promoting the importance of maintaining their own mental health.


Group Therapy

Group therapy provides an environment for clients to share their experiences, receive support, and challenge one another to reach treatment goals. Groups will be facilitated by a master's level counselor, trained to guide group process. We believe that a combination of psycho-educational, CBT, and process groups are an important part of treatment. Our group members get to know each other well and offer one another support and accountability. Groups are offered both during the day and evening hours.


---